PCS Merit Badge System
Students progress through our unique, non-competitive Merit Badge System in the fields of their interest or choice. The Merit Badge System is visually represented by a pyramid made up of rows of colored triangles. Each triangle represents a badge within any given discipline of STEAM. The levels are colored, with the base – or introductory level – for each badge being yellow. The second level in each badge is orange, followed by purple, blue, and so forth, with black representing complete mastery of a badge area.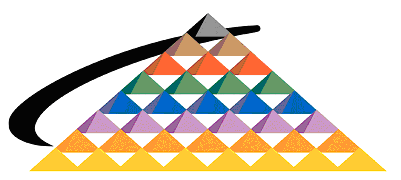 Each badge consists of activities specific to that badge, regardless of color level or discipline. Activities include projects, challenges, and personal projects reflecting all you have learned. In order to "color-up," or fill in an orange badge on the pyramid, you must have two supporting yellow base badges to hold up the orange.
PCS Merit Badge Areas
[contentblock id=meritbadge-call]